Wilderness slayer is arguably the best way to get your emblems, is easier the fresher your account. If you are a higher level account have trouble with Pkers this guide is here to help you avoid getting killed.
In this guide we will be going over what tasks you should do, and whats the safest way to avoid getting pked. We will also go over Xlogging, Boxing, and defensive pking so here are some terms you may want to know:
Xlog: Xlogging is logging out by closing the client without hitting the logout button Boxing: Is hitting 0's on a npc in order to maintain singleway combat with it Skull Trick: Is when someone tricks you into skulling by some means. Usually out of desperation. Usually one does not get skull tricked unless one is already risking a item, and was told by a user(part of the pking clan) to box them to avoid getting pked. That user tries to seem like the rouge of the group, not cool with pking but still comes along for some reason. Out of desperation users are likely to attack that individual and end up getting skulled and losing all their stuff PJ: When a user can hit you off of your target due to excessive eating, or a gap in combat time. Gap: Gap is the amount of distance between you and your target.
Alright now that we got the ground terms covered let's look at what tasks you actually want to do that are not complete aids:
Task
Telly
CMB
HP
SafeSpot
Worth doing
Wilderness
Ankous

75
60

Ice Giants

53
70

50+
Fire Giants

86
111

50+
Bears

21
27

10-20
Spiders

34
35

5-15
Scorpions

14
17

10-20
Skeletons

13
18

1-10
Green Dragons

79
75

19-30
Ice Warriors

57
59

50+
Earth Warriors

51
54

10-20
Chaos Druids

13
20

5-10
Magic Axes

42
45

50+
Mammoths

80
130

15ish
Hellhounds

50+
Lesser Demons

Greater Demons

Black Demons

Lava Dragons

50+
Dark Warriors

Bandits

Rouges

¯\_(ツ)_/¯
Ents

¯\_(ツ)_/¯
Spiritual Mages

¯\_(ツ)_/¯
20-30
Aviansies

¯\_(ツ)_/¯
20-30
Calisto

¯\_(ツ)_/¯
50+
Venenatis

¯\_(ツ)_/¯
20-35
Vetion

¯\_(ツ)_/¯
30+
KBD

¯\_(ツ)_/¯
50+
Chaos Elemental

¯\_(ツ)_/¯
50+
Scorpia

¯\_(ツ)_/¯
50+
Chaos Fanatic

¯\_(ツ)_/¯
40-50
Crazy Archeologist

¯\_(ツ)_/¯
20-30
Revenant Caves
Edit
With the release of the Revenant Cave dungeon in November 2017, Wilderness Slayer is more safe and viable for higher level accounts as certain tasks were very risky, especially in deep wildy.
Here is an image of the enemies found in the Revenant Cave: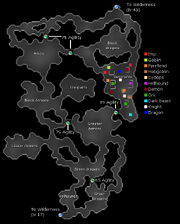 Tasks such as Hellhounds, Ice Giants, Lesser and Greater demons, Black demons and Green Dragons are much easier to do and save the stress of having to be ready to logout when seeing a pker. Still be alert though!